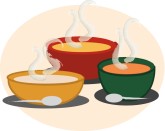 Brrr! It is cold outside and time again to bring out the big soup pots to keep our family warm. Here is my FAVORITE soup recipe. We call it "friendship soup" because of how many vegetables it takes and how it would be a nice hearty soup to make with a few friends to help chop and visit (maybe with a nice glass of white wine? ). My kids eat it, my family eats, everyone loves it.....except my mother in law. But that's ok.
Please share your favorite soup recipe! We are now gluten and dairy free so i'm having a hard time finding soups that might work with these new restrictions- bonus points if you share a gluten/dairy free soup recipe!
Friendship Soup
3 large potatoes- cubed
two cups of chopped spinach
6 carrots- chopped
3 stalks of celery diced
one medium zucchini peeled and seeded and diced
1/3 cup of rice
1/3 cup of each green and red split lentils
1/2 cup long grain brown rice
1tsp Italian seasoning
1/2 tsp each of garlic powder and onion powder (you could use
regular onions but my kids don't eat them!)
1 chicken boullion cube
2 cups of chicken broth
8-10 cups of water
Throw everything in a pot, bring to a boil and simmer for 1.5 hours or longer. I use all sort of veggies, i clear out the fridge and everything seems to go so well. The finer you shop the spinach the better and if you don't have any I have used frozen chopped spinach packages (one) and had a great result. My kids love the GREEN soup with familiar small bite sizes.