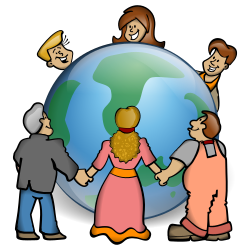 My children *should* be bilingual. My husband is German and his family live in Germany. He moved to Canada so we could be together. A more romantic love story I've never heard. I imagined I would quickly pick up the language and we would raise bilingual- no multilingual children who would one day follow our love of travel all over the world. Sadly i was mistaken - even though we go to Germany at least every second year- my children somehow are NOT multilingual. They are not even bilingual - I feel like we've failed them. So I have purchased German books, dvds and cds. I have done German language programs one after the other and somehow it just doesn't click. If I'm honest- I lack the consistency required for language learning.
I was asked to do a review for Games for Language. I have to admit i wasn't even a little bit hopeful. It started out so slowly- I was sure my daughter wouldn't keep with it- but i was wrong!! This is so exciting. They started off so slowly- building confidence, teaching how the different games worked and now my daughter (age 7 but a strong reader) is hooked! Since this is something she can do on her own for 10 min a day i am now wondering- could this be it?
I AM SO EXCITED
And i'm learning too- you can repeat a lesson as often as you wish so we're both doing them- she does them first and then later i do them as well.
I love online subscriptions- it means no curriculum taking up space- it means we're super flexible- even if we're on vacation and need some quiet time we can log in and continue and it is usually reasonably priced so you can start a program and see what you think before committing.
Try the demo here
http://www.gamesforlanguage.com/?_source=4ab06fcedff321355
BUT the most exciting part? Well......it is on SALE RIGHT NOW- so today try the demo- fall in love and then tomorrow it is on sale - HERE -
https://www.educents.com#researchedparenting
you can purchase a 6 month or 12 month subscription for up to 43% off a great deal!!
French- German- Italian and Spanish are all offered!
I was given a sample in order to try and post about it on this blog- but the opinions stated are my own. I have included my referral links as well and appreciate your support. Have a blessed day.